Standards and Regulations
In Australia, Safe Work Australia and Workplace Health and Safety (WHS) authorities in each state or territory have responsibilities for enforcing WHS/OHS legislation (acts and regulations). As a business owner, you must meet the WHS requirements set out in the acts and regulations in your state or territory.
The Safe Work Australia Code Of Practise for managing electrical risks in the Workplace may be downloaded here http://www.safeworkaustralia.gov.au/sites/SWA/about/Publications/Documents/699/Managing%20Electrical%20Risks%20in%20the%20WorkplaceV3.pdf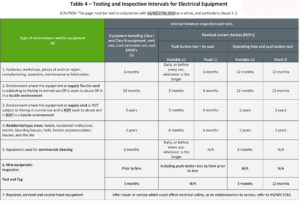 Power Safe Australia recommends business throughout Australia comply the WHS Regulations 2011 and Australian Standard AS/NZ3760 with respect to Electrical Safety in the workplace.
Model WHS Act and Regulations have been adopted in NSW, QLD, SA, TAS, NT, ACT and by Commonwealth Agencies.
To the right is an outline of Australian Standard AS3760 testing intervals.